the back with a Sèvres mark of two interlaced 'L's, the date letter V for the year 1774 and the painter's mark K for Charles Nicolas Dodin, probably for the Comte d'Artois, opening to reveal a leather lined writing slide, a shelf pigeon hole, two long and two short drawers, one fitted with silver metal receptacles for writing implements, ink pot and sander, above a frieze drawer, the whole flanked on either side by three bowed galleried shelves with marble tops, on spirally veneered tapering legs, joined by a galleried marble shelf with a gilt-bronze drapery swag frieze on acanthus leaf chased gilt-bronze sabot ; the back bearing mark as visible from photograph, AB and an ink stamp with the numbers 12846 ; some mounts of the lower part of the secrétaire probably later,
118cm. high, 84cm. wide, 29cm. deep ; 3ft. 10½in., 2ft. 9in., 2ft. 5in. ; porcelain plaque : 32cm. high, 26cm. wide ; 1ft½in.,10¼in.
PROVENANCE


Alfred de Rothschild, Seamore Place, London or Halton House, Buckinghamshire


M. Harris and Sons, London around 1930


The Collection of Sir Alfred Chester Beatty thence


la Comtesse d'Aubigny, sold Christie's London, 1st July 1976, lot 110, sold for £18,000 ;
EXHIBITED
The Exhibition of Art Treasures, the Grafton Street Galleries, 30th April-26th May 1928, ilustrated p. 63, no. 216, where it was stated to be formerly in the Collection of the late Alfred de Rothschild
LITERATURE AND REFERENCES
Marie-Laure de Rochebrune, « A propos de quelques plaques de porcelaine tendre de Sèvres par Charles Nicolas Dodin (1734-1803), Bulletin de la Société de l'Histoire de l'Art Français 1998-1999, pp. 105-130, the porcelain plaque illustrated p. 113
COMPARATIVE LITERATURE


Kisluck-Grosheide, Koeppe and Rieder, European Furniture in the Metropolitan Museum of Art, New York, 2006, p. 170


Peter Hughes, The Wallace Collection, vol. II, London, 1996, p. 948-954.


Pierre Kjellberg, Le mobilier français du XVIIIe siècle, Paris, 1998, p. 153-164.


Masterpieces of the J.Paul Getty Museum, Decorative Arts, Los Angeles, 1997, p. 113, no. 90.


F.J.B. Watson, The Wrightsman Collection, vol. I, New York, 1966, p. 186-190.


A. N. Wilson, The Life and Times of Sir Alfred Chester Beatty, London, 1985.


Charles Davis, The Alfred de Rothschild Collection,1884, pl. 100


David Peters, Sèvres Plates and Services of the 18th Century, 2005, Vol II, n° 73-3, pp. 483-484 and 73-7, pp. 493-494


Rosalind Savill, Catalogue of Sèvres Porcelain, Vol. III, pp. 1029-1031.


Jeffrey Weaver, French Art of the 18th Century at the Huntington, 2008, no. 33, pp. 122-124, no. 114, pp. 275-278.
CATALOGUE NOTE
A portrait of the Comte and Comtesse d'Artois

The marriage of Charles Philippe de France, Comte d'Artois, youngest brother of the Dauphin and later King Louis XVI with Marie Thérèse de Savoie, third daughter of Vittorio Amadeo III, King of Sardinia took place in Versailles on 16th November 1773 and was the occasion for a number of festivities which are described in memoires of the period.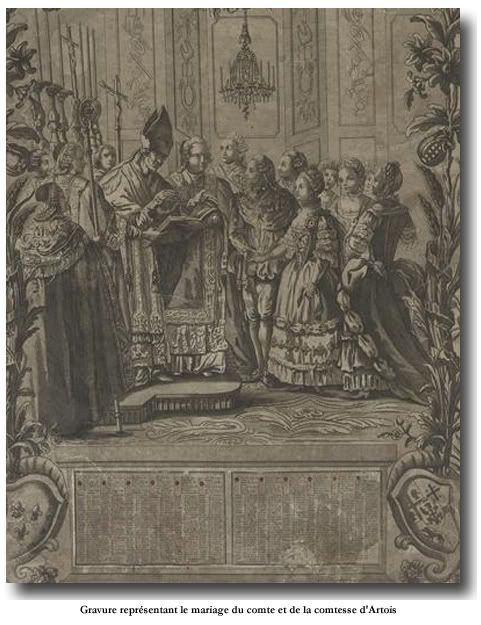 The Sèvres porcelain factory contributed to this event in various ways. On 26th August 1773 a dinner service painted with guirlandes de verdure and marguerites en carmine rehaussés d'or was given by King Louis XV through his Minister of Foreign Affairs, Emmanuel-Armand de Vignerot du Plessis-Richelieu, duc d'Aiguillon, to the Comte de la Trinté, Grand Maitre de la maison du Roi de Sardigne. Two large parts of this service were sold at Sotheby's, one in New York (12 March 1971, lot 276) the other in Milan (21st October 2003, lot 402).
The day before the marriage, on 15th November 1773, the Sèvres factory delivered a green ground service painted with groups of flowers to the Comte de Montbel, premier maître d'Hôtel of the Comtesse d'Artois. A porte huilier à carcasses from this service is offered in the present sale as lot 58 (see David Peters, op. cit., n° 73-3 and 73-7).
On 13th November 1773, the sculptor Louis Simon Boizot, named that year head of the sculpture workshop at the Sèvres factory, presented to Comte d'Artois at Versailles a new model of a biscuit group L'Alliance or L'Hymen. This group depicts the Comte and Comtesse d'Artois with a figure of Hymen standing behind the couple, applying a torch on two hearts on an altar, two cupids holding shields with coats of arms of France and Savoy (fig. 3, Emile Bourgeois, Le Biscuit de Sèvres au XVIIIème siècle, Paris, 1909, n° 12, pl. 13 and Anne Billon, Louis Simon Boizot, 1743-1809, Sculpteur du Roi et Directeur de l'atelier de sculpture à la Manufacture de Sèvres, Exhibition catalogue, musée Lambinet, Versailles, 2001, n° 55, p. 197).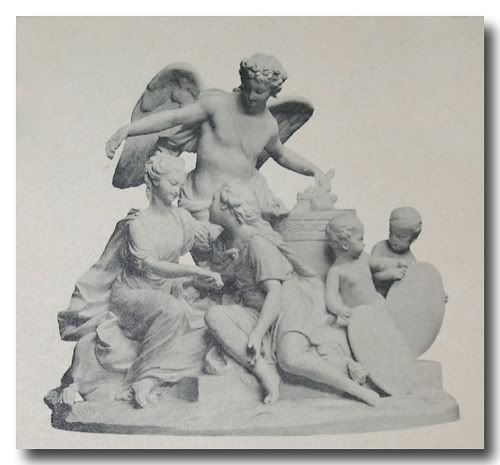 For this biscuit group Boizot has preferred to idealise the Comte and Comtesse d'Artois rather than model faithful portraits. The year after, in December 1774, Boizot created a model of another Royal portraits biscuit group with the Autel Royal, an allegory of the coronation of Louis XVI and Marie Antoinette. In 1782 he modelled a group for the birth of the Dauphin and in 1785 the group Allégorie de la naissance du duc de Normandie. It was a way for Boizot and the factory to flatter the Royal family. In 1773 Boizot was working with Thomire for the Comte d'Artois and the group of l'Alliance or l'Hymen, was likely intended to encourage the Comte's favour.
Because the group of l'Alliance or l'Hymen pleased the Comte and Comtesse d'Artois, in 1774 Boizot asked the engraver Levasseur to produce a print after the biscuit group. It was presented to the Comte d'Artois on the 21st December 1774 (Cabinet des Estampes, Collection Hennin, T. CVIII, p. 42).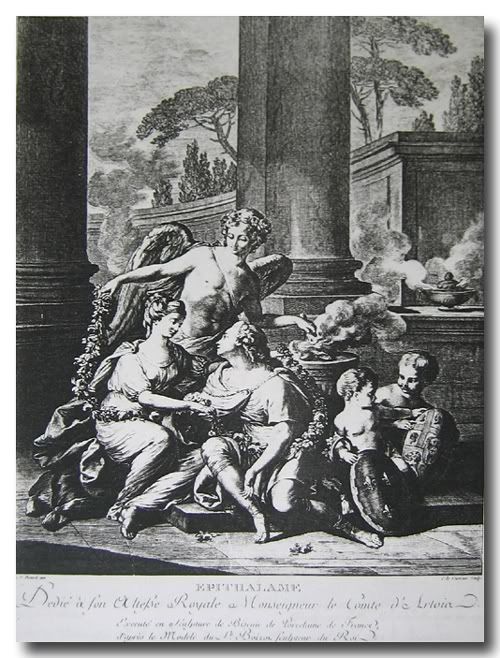 The Mercure de France in February 1775 related this event : "Le 21 décember dernier, le sieur Boizot, sculpteur du Roi et de la Manufacture de porcelaine à Sèvres, eut l'honneur de présenter à Monseigneur le Comte d'Artois, une estampe gravée d'après un modèle de lui, exécuté en sculpture de biscuit de porcelaine de France. Ce morceau représente un épithalame à l'occasion du marriage de Monseigneur le Comte d'Artois. Ce modèle a été présenté à Versailles, le 13 novembre 1773, jour du marriage. Ayant reçu l'accueil le plus favourable, M. Le Vasseur, graveur du Roi, a été chargé de le graver(...) Les deux époux au pied de l'autel de l'Hymen se donnent la foi conjugale ; l'Hymen les enchaine de fleurs et de son brandon enflame les coeurs sur son autel. Le Génie de la France et celui de la Savoie, réunissent les écussons." (Mercure de France, février 1775, pp. 174-175).
At the same time, the Sèvres figure painter Charles Nicolas Dodin painted the present porcelain plaque described as a tableau représentant l'himen, for which he received the large amount of 330 livres in 1774 (Archives MNS, overtime records, 1774, Dodin). As with Levasseur's print, Dodin painted a garland of flowers around the Royal couple that is not on the biscuit group, he also added symbols of Love : two doves pecking, a dog as a sign of fidelity and two Cupids playing with a quiver, which he preferred to the more official Cupids with armorial shields. Similarly to Boizot's group, Dodin has idealised the two protagonists.

The present porcelain plaque is very likely one of the two plaques with unspecified decoration bought by King Louis XVI at Versailles in December 1774 for the price of 720 livres each (Archives MNS., Vy5, f° 245 V.) probably to be given as a present to the Comte and Comtesse d'Artois. This plaque is discussed by Marie-Laure de Rochebrune in her essay on Dodin's porcelain plaques where the author states that "this highly interesting plaque was mounted in the 18th century on a secrétaire by Martin Carlin for the Comte d'Artois at Bagatelle " (Marie-Laure de Rochebrune, op. cit. p. 112).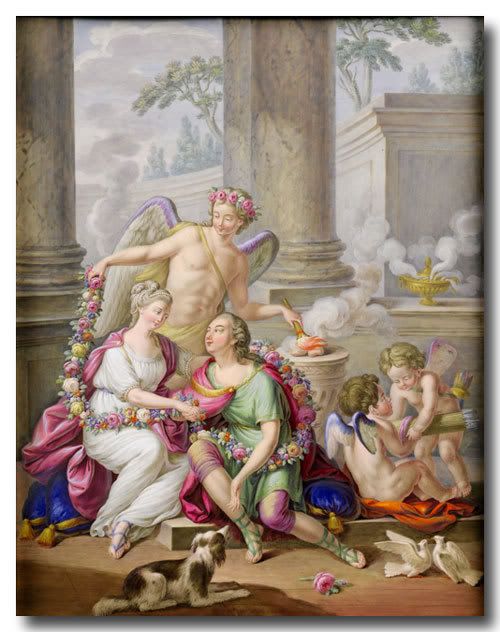 Charles Nicolas Dodin at the Sèvres factory
From 1754 to 1803 Charles Nicoles Dodin worked as a miniature painter at the porcelain factory of Vincennes-Sèvres, where he was considered one of the best artists. In 1755, his work was described as follows : son genre de talents est la Peinture en figure qu'il possède passablement bien, et promet beaucoup de progrès (Archvices MNS, Y8). In 1773-74, he was considered "le plus habile peintre de l'atelier pour porcelaine tendre" (Archives MNS, HI, l.5, 1773-74). There were soon examples of it in the best French and other European collections, including those of Louis XV and the last two royal mistresses, Madame de Pompadour and Madame du Barry, as well as Louis XVI and his brothers Louis Stanislas Xavier, Comte de Provence and Charles Philippe, Comte d'Artois. He specialized at first in cherubs after Boucher and from 1757 he started to paint Teniers scenes. In 1760-63, he painted chinoiserie scenes in a style unique to himself. The earliest pieces with this painting are the two vases à tète delephant with a ground of pink, white, and green bought by Madame de Pompadour, in the collection of Alfred de Rothschild in the 19th century and now at the Walters Art Gallery in Baltimore. His earliest paintings on porcelain plaques date from 1761. He received that year 96 livres for a tableau à personnages probably the 1761 plaque painted with La Halte des Chasseurs after van Falens, now in the Metropolitan Museum in New York and 24 livres for le buste du Roy dans un tableau de fleurs now in the Hermitage Museum.
In 1764-65 he painted a scene commemorating the birth of a grandchild of Marquis de Courteille, finance director and patron of the Sèvres porcelain factory. This plaque is in the Victoria and Albert Museum.
Two plaques by Dodin were included in the gift from Louis XV to Christian VII of Denmark in 1768, one painted with the Sacrifice of Pan, for which he received 444 livres. One of his most famous pieces is the plaque painted in 1771 with La diseuse de bonne aventure after Jean-Baptiste Le Prince, delivered by Poirier to Madame du Barry in 1772 and now in the Calouste Gulbelkian collection in Lisbon.
In 1774 the year he painted the present plaque, Madame du Barry received the guéridon preserved today in the Louvre Museum, painted by Dodin with the Grand Turk giving a concert to his mistress after Carl van Loo.
In 1780 he worked on two of nine plaques depicting Louis XVI's hunts. Alfred de Rothschild had in his collection another porcelain plaque painted by Dodin mounted on a secrétaire, now in the Huntington Library, San Marino, California. This plaque painted with Renaud et Armide after Boucher, for which the original painting was brought to the factory for Dodin to copy, was given by Louis XVI to his brother-in-law the Duc de Saxe-Teschen. This secrétaire is discussed in the recent catalogue of the Huntington collection where Jeffrey Weaver explains how Alfred de Rothschild bought separately the plaque and the secrétaire by Bernard Molitor c. 1880 and incorporated the porcelain into the front of the secrétaire before 1884 (Jeffrey Weaver, op. cit., p.276). Charles Nicolas Dodin also worked on a number of flower and ornemental cases, snuff-boxes, the Catherine II Service, the toilette de la Comtesse du Nord and the Louis XVI service.

The marchands-merciers and porcelain-mounted furniture
The fashion for mounted porcelain initiated by the marchands-merciers became all the rage towards the 1770s and has been associated with the top makers of the Louis XVI period. This type of secrétaire with rounded shelves flanking the fall-front is a popular model mostly associated with Carlin, whose association with the marchands merciers was more than symbiotic. Pierre Verlet (Hughes, op. cit. 953) points out that the model probably derived from the cabinet on stand of the seventeenth century, with a rounded front flanked with shelves at either sides and raised on a stand enclosing a single drawer. Roger Vandercruse dit Lacroix is believed to have produced this model of secrétaire before Carlin. Such a piece with similar drapery mounts and side shelving was subsequently bought by the 4th Marquess of Hertford in 1851, now in the Wallace Collection F304 (Hughes, op. cit., p. 953) see fig. 5.
Another celebrated cabinet bearing similar gilt-bronze mounts and floral porcelain paintings was formerly in the boudoir of the Grand Duchess Maria Feodorovna, later to become the wife of Tzar Paul I, at the palace of Pavlovsk. It is now in the Wrightsman galleries of the Metropolitan Museum of Art 1976.155.110 (Watson, op. cit., p. 189).
It is also worthwhile considering a secrétaire stamped M. Carlin, in the Getty Museum, illustrated in the catalogue, p. 113, no. 90 (inv. 81.DA.80). It has identical frieze mounts and similar but more elaborate angle mounts, two shelves at the angles and two doors each applied with a porcelain plaque with a flower-filled vase painted by Edme-Francois Bouillat (1739/40-1810). There are smaller white porcelain plaques on the apron with floral sprigs painted by Raux fils aîné (active 1766-1779).
This spiral parquetry can be found on Carlin tables but also on tables by Charles Topino. Among the veneers utilised by Carlin the most highly favoured was tulipwood and the support of guéridons was often veneerd in a spiral pattern.
The Comte D'Artois
Younger brother of Louis XVI and King in his own right at Charles X, the comte d'Artois was known for his lavish tastes, sporting skills and love of the goût Anglais. He was a great friend and member of Marie-Antoinette's social set. Married to Marie Thérèse of Sardinia in 1773, he bore her two children including the eponymous duc de Berry. His love of luxury made him famous after he made a bet with the Queen that he could build a château in under two months. Known as the folie Artois in the bois de Boulogne it is now known to most Parisians as the château de Bagatelle. He was a big patron of the arts and commissioned great pieces including the Artois cabinet now in Windsor collection of HM the Queen. After fleeing the Revolution, he travelled to the various courts of Europe and established himself for a while in England before returning upon the restoration of the monarchy under the rule of his brother Louis XVIII. Upon his death in 1824 he succeeded him to the throne as Charles X. His rule was short-lived as the revolution of 1830 overthrew him in favour of his cousin Louis Philippe. Exiled in Görz, formerly part of the Austrian Empire and today part of Italy in 1836.
Martin Carlin
Martin Carlin (c. 1730-1785), received maître in 1766, specialised in making furniture mounted with Sèvres porcelain plaques. Made fashionable by the famous marchand-mercier Simon-Philippe Poirier and his successor Dominique Daguerre, this expensive form of decoration began about 1760 and reached full popularity by the 1770s. The bulk of Carlin's œuvre is due to the influence of these marchands merciers who dictated taste, would commission the furniture, ensure the necessary materials for the production of the piece and would instruct the very style and nature of the piece down to every detail. Although Carlin never received the title of ébéniste to the crown, he did provide furnishings for the royal family including Marie-Antoinette, the comte and comtesse de Provence, Mesdames the daughters of Louis XV and the comtesse Du Barry among others. This was achieved mainly through the patronage of Poirier and Daguerre.
Alfred de Rothschild (1842-1918
He was the second son of Lionel de Rothschild and Baroness Charlotte von Rothschild of the prominent Rothschild family.
As a young man, Alfred attended King's College London, and subsequently Trinity College, Cambridge, England and it was whilst at Trinity College that Alfred formed a lasting friendship with the Prince of Wales, later King Edward VII. Alfred left Cambridge University without a degree. He was employed at the age of twenty-one at the N M Rothschild Bank at New Court in London. It was there that he learnt the business of banking from his father and made valuable contacts in European banking circles.
At the age of twenty-six, in 1869, Alfred became a director of the Bank of England, a post he held for twenty years. In 1892, he was one of those who represented the British Government at the International Monetary Conference in Brussels.
Upon the death of his father in 1879, Alfred inherited a 1,400-acre at Halton in Buckinghamshire. Alfred set about building a house in the style of a French chateau and the work started in around 1880 and Halton House was finished in July 1883. Alfred remained in residence at Seamore Place in London and only ever used Halton House for social purposes.He was awarded the Legion of Honour by the government of France. A patron of the arts, he also donated money to the National Art Gallery for acquisitions.
Sir Alfred Chester Beatty
`He was the greatest of all living figures in the mining industry, and with his passing the world has lost one of its most romantic characters', thus wrote the Times of London after his death in Monaco on January 19th, 1968 at the age of 92. He was an American by birth and one of the original mine prospectors in the American Wild West at the end of the 19th century and became a millionaire before he was thirty-five. He later became a naturalised British citizen and later earned a knighthood. He was responsible for the discovery and development of minerals in the British commonwealth and other parts of the world.However, he was most well known as an art connoisseur especially of Impressionist paintings and he loved and collected rare Oriental manuscripts and the monument to the latter is the Chester Beatty Library and Museum of Oriental Art in Dublin. He made this gift as he was the first honorary citizen of Ireland and enjoyed a state funeral when he died.